445 W. 56th Street, Kansas City, MO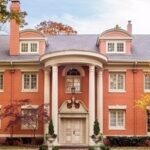 The colonial house at the corner of 56th and Pennsylvania was built for Andrew Young and his wife Bertha in 1915.  Mr. Young was the general manager of the Montgomery Ward catalogue service center at 6200 St. John Avenue, Kansas City, MO.  At that time Montgomery Ward and Sears were rivals in mailing merchandise to the rural residents around large cities.  In fact Kansas City was the second largest distribution center after Chicago, the headquarters for Montgomery Ward.
We do not have the name of an architect for the house, but we have reason to believe that the façade was much plainer than it is today due to neo-classical embellishments such as the semicircular rotunda over the front portico and dormer windows which were added by the second owner in 1935.
Mr. Young was called back to the Montgomery Ward headquarters in Chicago about 1920 and resigned his position as Chairman of the Charities Committee of the Chamber of Commerce.  However it appears that Mrs. Young and their seven children may have continued to live in the house for many years after that.  It was not until 1932 that the Youngs deeded the property to William Volker.  By the time of the 1940 census Mr. Young was shown in the City Directory as a clerk and lived on 39th Street.  Mrs. Young died in 1941 and Mr. Young in 1959, and they are buried at Mt. Moriah Cemetery.
In 1935 William Volker sold the house to a straw buyer who immediately transferred it to Gilmer and Dorothea Simpson Meriwether.  And yes, Gilmer was related to Meriwether Lewis of Lewis and Clark fame.  Dorothea was from the well-known abolitionist Simpson family from Lawrence, Kansas.  Her father was a land developer, and Dorothea grew up knowing about the real estate business.  Gilmer's family owned the Standard Investment Company which helped finance city infrastructure projects such as sewers.  He was from the Princeton Class of 1919 and wrote in the 1930 alumni weekly:  "Still financing and underwriting public work.  As this is mostly sewer construction, you might term it a low species of profession, but you get used to anything."
Both the Meriwethers were history buffs because of their illustrious family connections, and they immediately set out to embellish their home with neo-classical elements which are still visible today.  They used the architectural skills of Clarence E. Shepard and enjoyed the home for about 60 years.  They also worked with the Jackson County Historical Society to erect a Battle of Westport Civil War marker in the corner of their front yard at 56th Street and Pennsylvania.  It tells about the action of October 23, 1864 when the Battle of Westport was fought in and around present day Loose Park.
The Meriwethers were not exempt from the hardships of World War II.  Mr. Meriwether enlisted even though he was 44 years old in 1942 and served as a captain in the intelligence service in North Africa where he endured rough conditions from the weather and battles.  Mrs. Meriwether picked up the slack back in Kansas City and held her husband's business together in Kansas City and Los Angeles and raised two daughters.  During the war years Mrs. Meriwether's nephew, Scott McLucas, lived with the family in Kansas City while his father was serving in California.  The stories of the various segments of their families are memorialized in Mrs. Meriwether's book Look Back with Pride published in 1988. Mr. Meriwether died in 1982 and Mrs. Meriwether in 1995.  They are buried at Mt. Washington Cemetery.
The next owners of the house were Dr. Frank P. Holladay and his wife Debra from about 1998 to 2013.
The present owners are Dr. Timothy J. and Heather Pluard and their children.
Beverly Shaw, House Historian
(816) 225-7944 cell