Students gain real-world experience at Symphony Designers' Showhouse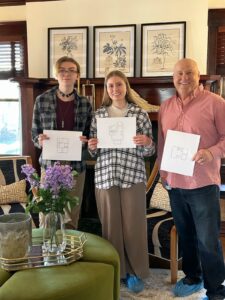 One of the most important elements of the Symphony Designers' Showhouse program book is a depiction of the Showhouse floor plan.
Each year, visitors receive a free keepsake copy of a full-color program guide that includes the house floor plan, order of tour, history, participating designers, messages from Kansas City Symphony leadership, photos of each design space and descriptions of the designers' inspiration.
The floor plan is a vital part of sharing the Showhouse's architecture and serves as a navigational tool for visitors touring the house.
The professional grade floor plan is developed by high school students at the Blue Valley Schools Center for Advanced Professional Studies (CAPS).
Using a sophisticated technology called Revit, students in the architectural and civil strand of CAPS engineering programs develop a floorplan for each floor of the house, reflecting key components such as walls, doorways, hallways, stairs, closets, and windows.
Because the Showhouses are usually historic (many over 100 years old) original blueprints and floorplans often aren't available. Renovations, remodeling, and extensions sometimes occur over the course of decades of ownership.
That's where CAPS students come in.
In the project's early phases, students visit the house and carefully measure out each house space to recreate a floor plan for each level. Then the plan is printed in the Showhouse program book with a room-by-room numbered order of tour.
The project is a rare chance for teenagers to gain real-world experience in their future careers in scenarios where they can work with actual professionals. The experience builds student's confidence in their ability to attain their career goals.
"Educating students is one of the most important objectives of the Symphony Designers' Showhouse," says Kellie Sullivan, Vice President, 53rd Symphony Designers' Showhouse. "Our collaborations with area schools to encourage interest in design and architecture is as rewarding for us as it is the students. It's a win-win for everyone."
Encouraging the next generation of interior designers
The partnership with the CAPS program is just one example of many opportunities KCSA provides area students to be part of the beloved Showhouse tradition and explore a future career.
One of the Showhouse's longest-running design partnerships is the Johnson Country Community College interior design student team. Under faculty advisor guidance students design and decorate a space, and have earned multiple industry award recognitions for their creativity and proficiency. Their work can be seen in this year's stately dining room.
Park University's interior design students are participating as well, creating a comfortable English garden retreat in the Showhouse's unique curved screened-in porch space.
The Showhouse also hosts Kansas City area students on field trips to tour the Showhouse in its before-and-after states. The experience encourages students to reimagine the Showhouse by viewing it in its "before" condition and allows them to appreciate the design transformation process with a guided "after" tour of the house makeover. Students may create their own design board for feedback and public display.
An exciting new partnership with Girl Scouts of Northeast Kansas and Northwest Missouri is giving scouts a chance to learn and earn a merit badge. "We are delighted for the first time to bring girl scouts into the Showhouse to gain insights from experts in interior design, history, philanthropy and event planning," says Sullivan. "We want to inspire the next generation in hopes that they'll want to carry on our beloved Symphony Designers' Showhouse tradition."
For more information about student opportunities at the Symphony Designers' Showhouse, please contact us here.