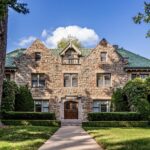 The impressive Jacobethan house at 1246 W. 59th Street was built in 1921 in the Country Club District of Kansas City, Missouri. The architectural firm was Hoit, Price and Barnes, and the builder was Clarence E. Ennis who used cut fieldstone and a green tile roof.
The Hoit, Price and Barnes firm also designed the 30,000 square foot Nelson House at 55th and Ward Parkway for Mack B. Nelson, president of the area's largest lumber company, and the Charles Braley House on Dunford Circle, both of which have been Symphony Designers' Showhouses. They also worked on the R. A. Long home called Corinthian Hall, now the Kansas City Museum, and Longview Farm, which was also a Symphony Designers' Showhouse. One of their most recognizable commercial projects is the art deco Kansas City Power and Light Building.
The first owner of the house was Fred Hoose and his wife Alice with their two children, Frances and Clinton. Mr. Hoose was vice-president and treasurer of the Norris Grain Company, but his success was delayed by problems with the economy which caused him to start over as a bookkeeper for several grain companies in Chicago and Milwaukee before being sent to Kansas City where he became a member of the Board of Trade in 1902.
Fred was active in Republican politics and spoke at the 1936 Republican National Convention in support of Alf Landon. After retiring from the grain business Fred and Alice moved to Los Angeles in 1938 to pursue his lifelong passion for acting. His cousin was Holbrook Blinn, an accomplished stage actor. Fred was mainly a character actor and appeared in films with John Wayne and Clark Gable who was one of his favorites. He was one of Clark Gable's henchmen in Any Number Can Play.
The longest ownership of the house was by John and Marion Kreamer with their children, Jane, Anne, and Dan. John and Marion were renowned for their volunteer activities on behalf of many Kansas City charities. John was the managing partner of Gage & Tucker and was a leader of the Missouri Republican Party and one of the earliest supporters of U. S. Senators Jack Danforth and Kit Bond.
John and Marion met at Harvard when John was attending law school. Marion was the daughter of Carl Enggas, one of Kansas City's most prominent lawyers, but he did not join his father-in-law's firm. "He wanted to make it on his own," Marion said. She was a civic and philanthropic force in her own right and said, "He supported me in everything I did. I could never have done it without him. It was mutual. I think we were both interested in what the other was doing." They lived in the house from the late '60s until John's death in 1992 and Marion's death in 1993.
Donald and Margaret Austin followed the Kreamers and did some remodeling and added the overhang in the kitchen. They still reside in Kansas City where Margaret is active in the Symphony Women's Association. Earl Hannum Devanny and Elizabeth Devanny owned the house in the early part of 2000 when he was employed by the Cerner Corporation.
Through the generosity of the current owners, A. L. and Susan Summerlin, the tradition of the Symphony Designers' Showhouse continues.
By Beverly Shaw,House Historian