Showhouse 51 Virtual Video Tour!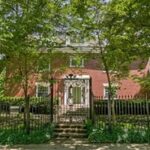 The Kansas City Symphony Alliance is pleased to announce that our 51st Symphony Designers' Showhouse (which was not able to open to the public because of the Covid-19 pandemic) is available to view in an online video.
Join us for the 51st Symphony Designers' Showhouse virtual tour! Our designers will take you virtually through their space, giving you unique insights into how they transformed this historic 1909 Hyde Park neighborhood home.
Visit our Facebook page or our YouTube channel. If you enjoy what you see, your donation will be gratefully accepted! All proceeds are donated to our Kansas City Symphony.