Public Preview Showhouse – 2022
Thank you for attending the Kansas City Symphony Designers' Showhouse Public Preview on Feb. 26-27 and March 5-6! Hundreds of visitors got a sneak peek of the Showhouse in its "before" condition and are excited about touring the fully transformed Showhouse  when it opens June 10 – July 3, 2022. See you there!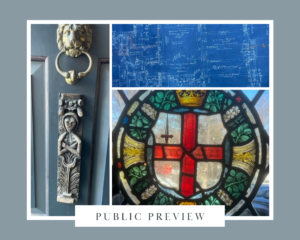 About the 52nd Showhouse
The Kansas City Symphony Alliance (KCSA) has selected a stately, Normandy farmhouse-style home for its 52nd Symphony Designers' Showhouse fundraiser.
The house is located at 1025 W. 53rd Terrace in the Sunset Hill subdivision of Kansas City, Missouri, west of Loose Park. The house is 5,565 sq. ft., and features a glass conservatory, 5 fireplaces, a pool, slate roof and 4-car garage. The style elements include hand hewn oak beams, 18th and 19th century carved wood moldings and fireplace surrounds, French iron chandeliers, stained glass, and antique brick flooring. The home's spectacular garden has been showcased in many charitable garden tours and includes walkways, fountains and a variety of lush plantings and foliage.
The residence was finished in 1932 and designed by Edward Tanner, the renowned architect responsible for designing the Country Club Plaza, Danforth Chapel at the University of Kansas, Linda Hall Library, and many prominent homes in the Country Club District and Johnson County.  The house will provide multiple spaces for area designers to transform into works of art applying the latest design trends.
Showhouse Tour Dates June 10 – July 3
The transformed, fully decorated Showhouse will be open to the public June 10 through July 3, 2022.  It will feature a Boutique with a variety of accessories, jewelry and gift items and a café with boxed lunches (catered by Aroma Bistro) for visitors to enjoy. The residence is also available for private events.
Tickets for the decorated showhouse tour are $20 in advance or $25 at the door. Tickets are now on sale online and will be available at area ticket outlets as well as through Kansas City Symphony Alliance members. To purchase tickets now online click HERE.