Matt Stewart Presentation & Book Signing
Popular Fox 4 New reporter and writer Matt Stewart will share his personal story and take your tastebuds on an incredible journey through the best places to eat in Kansas City. His newest book, Unique Eats and Eateries of Kansas City – The People and Stories Behind the Food will be available for purchase.
Date: Thursday, April 27, 2023
Time: 6:30 p.m. (presentation approximately 60 minutes)
Location: 3681 Madison Ave., Kansas City, MO 64111 (at the Symphony Designers' Showhouse)
No registration necessary. This is a free event for Showhouse ticket purchasers.
Attendees interested in touring the Symphony Designers' Showhouse prior to Matt's presentation are advised to allow 45-60 minutes for the tour. The Showhouse will be open for tours from 10 a.m. – 8 p.m. on Thursday, April 27. Tickets to the showhouse are available at the door ($25) or $20 in advance.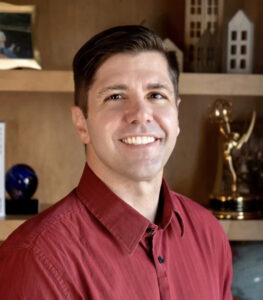 About Matt Stewart
Matt Stewart is an Emmy-award winning reporter who currently anchors and reports for the Fox 4 Morning Show in Kansas City, MO. A graduate of the Medill School of Journalism at Northwestern University, Matt played football during their two Big Ten Championship seasons in 1995 and 1996. His first book, The Walk-On, details his experiences and the team's turnaround from the worst team in the Big Ten to the best. Matt is married with three children.
About Unique Eats and Eateries of Kansas City
When you think Kansas City, you think barbecue. And sure, we know how to smoke and sauce meat. But limiting our city to just one type of food is an injustice of epic proportions. Some of the best chefs in the world make Kansas City their home, and they've brought their award-winning recipes with them. Within the pages of Unique Eats and Eateries of Kansas City you'll not only learn why they decided to open their restaurants here but also the stories behind their food. Learn how a national magazine helped a legendary barbecue chef turn burnt ends from a free snack into a main course. Taste some of the most beautiful chocolates you'll ever see created by a burnt-out chef on one last try at success. Check out some of the best-tasting tacos at a Mexican grocery store, or discover how a restaurant with the best burgers in Kansas City became famous thanks to a serial killer. Every eatery offers a fascinating story behind the delicious food they serve, and this book is a guide to some of Kansas City's best. Fox 4 anchor and reporter Matt Stewart takes you on a culinary tour of Kansas City's most unique, unusual, and enjoyable food spots to help you pick and better appreciate your next dining experience.